Using the help of the top 10  Premium Minimalist WordPress Themes, you  can improve your blog SEO-wise, because the themes use minimum design and coding
When you want to cash in on the traffic generated from search engine results, a.k.a. search engine traffic, you need to have a suitable theme. A theme good for such purposes would be one that relies on less graphics, is readable in all the modern browsers like Chrome, Firefox, and Safari.  The perfect way to do that is to use a minimalistic theme. Take a look around in this article, and make your choice.
Usual Features of Premium Minimalist Themes :
The code is W3C validated.
Support for SEO-related plugins
Designed by professional developer.
Highly Optimized well written code for better SEO
Widgets and plugins are easy to add
Your own logo and favicon icon
Life time free support and updates
Nested comments
Flexible WordPress Theme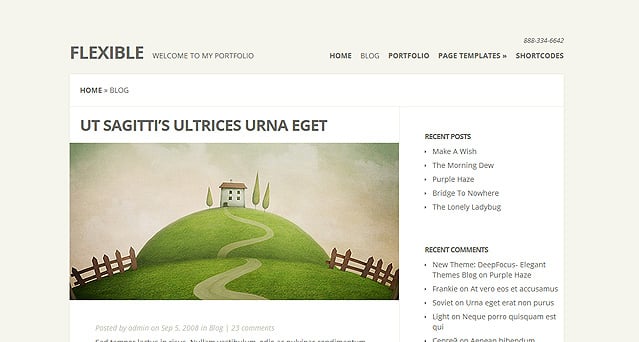 Flexible is one of the themes that are most characteristic with the fact that they make your content stick out, compared to the design elements, which are limited to minimum, but still making an impression. Coming with an AJAX powered gallery, this theme is full of options and a control panel that allows you to choose any combination of colors.
 Theme Sneak Peek: SimplePress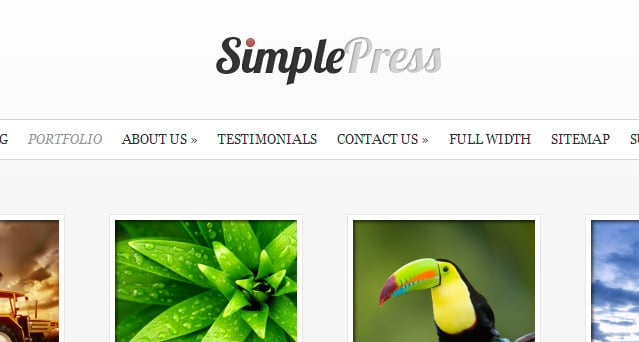 Elegant and simplistic would be the best definition for SimplePress. This theme comes with a JavaScript slider and a well-ordered hierarchy. The Blog and Gallery sections are completely working and you get to choose between five uniquely different attractive colors.
Classica: Minimalistic WordPress Portfolio Theme
A state-of-the-art premium minimalistic theme, Classica is built around the notion of the portfolio, allowing people to showcase their work to others, without making the design of the theme itself so intricate. Whether you're a web designer, graphics designer, a print artist or a painter, this theme will be perfect for showcasing your work.
Vulcan – Minimalist Business Theme
Coming with great features like Gravatar support, video shortcodes and jquery,  the Vulcan premium theme was made with the needs of a business website in mind. And indeed this theme would be perfect for nearly any type of business. It comes with five default color options, and 3 different varieties of the slider.
KIN

– Minimalist Photography Template
KIN, just like its name , is very minimalistic while still quite functional. Design-wise it has 2 styles and skins, which would make you think it's not such a big deal. It's shaped in a magazine style, and features iPad gesture support, form validation for the Contact Us page and a PHP mailer. Quite a lot to offer for any blogger.
RockWell – Blog & Portfolio WordPress Theme ( Highly Recommended! )
RockWell has so many features it will blow your mind! The list of features includes Custom Widgets, Multiple Sidebars, a Slider and a Category Manager. A good tool for the creative, it allows you to express yourself in a meaningful manner, while still being very easy to use. It's the top choice of many photographers, bloggers and business owners.
AirWP
This portfolio theme was made by a ThemeForest elite author, and its design is completely table-less. It is 100% W3C valid, while still featuring many cool options and tweaks like jQuery, Nivo Slideshow and an interesting Dropdown menu.
Studio8 – A Creative Minimalist WordPress Theme ( MUST BUY! )
Studio8, as you might have guessed correctly, was made with the necessities of a photo studio in mind. It features a gallery that can display images in full screen to display the featured work of the author. It has a twitter ticker and amazing hover effects. To top it off, the AJAX contact form is perfect, and the gallery is easy to manage even for hundreds of pictures.
Yin & Yang: Clear and Slick WP Theme
The Yin&Yang theme is compatible with nearly all WordPress versions, which means you can use it just as good on an old installation as well. But that's not its main advantage – it has a wonderful admin panel allowing you to easily adjust the options to make the perfect portfolio. Great documentation is also provided for this theme and the customer support is excellent.
MiniBuzz

- Premium Minimalist Business WordPress Theme
MiniBuzz is a simple, clean, easy to customize, quickly setup and minimalist business wordpress theme that is identical for online business, portfolio, company and corporate. You can also change the color scheme and view of the theme by simple few clicks. Custom Post Type, jQuery Cycle, Well Documented, jQuery Fancy Transition & PrettyPhoto are major features.
MiniBuzz may be simple and clean, but it is also full of many and different features. It has easily changeable color schemes and you can view the theme via several simple clicks. It comes with jQuery Cycle, Fancy Transition and lots of other features – perfect for a portfolio, a business or a corporate website.
There are actually 11 themes on this list, one extra from us. If you want to be more certain of how these themes look it's best to download them and check them out for yourself. Please share any feedback you have on this list.