If you try and install one of the top 5 Premium Pinterest WordPress Themes and clones have
the potential to increase your website popularity and traffic by the vast amount of 200% .
Recently it has been observed that one of the top most expensive domains in the blogging
community changed to a Pinterest style and can you guess what the result was? Their revenue
skyrocketed due to the fact that traffic increased drastically. We were not the only ones to
observe that fact, and because of that, many blog owners are now switching to Premium
Pinterest WordPress Themes to get more social benefits to increase their presence on the web.
You'll find some of the best designs for Pinterest styled WordPress themes below.
Common Features of Free Premium Pinterest WordPress Themes :
Responsive design that works like a charm
Full Pinterest-experience layout,
Search Engine Optimized at the core, to help with any potential problems with the Panda
and Penguin Google updates.
Out of the box WordPress integration
They are completely widgets-ready, so you can add what you want.
Validated , standards compliant for cross-browser compatibility.
Including well-made documentation
You can change colors , styles and any aspect of the outlook.
Pinpress – Premium WordPress Pinterest Theme ( Highly Recommended! )
Centered around the idea of a pinboard, this high quality WordPress theme can make your blog
very similar to every important concept of Pinterest – multi-column design and the ability to add
any number of images are just some of the benefits. The young and talented developers have
made sure that it is compatible with any type of mobile devices as well as the desktop.
Pinboard – Responsive Pinterest-style Theme ( Highly Recommended! )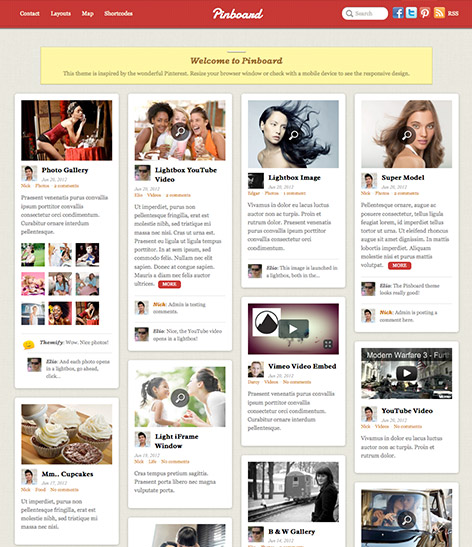 Brought to you by the crafty team at Themify.me, Pinboard is exactly what it says – a complete
pin board experience with an auto-stacking layout , infinite scrolling compatible with any
resolution. It runs well on Android, iPhones, iPads and even BlackBerry. Equipped with
Lightbox gallery and custom welcome pages it combines all the pros of Pinterest styled blogs
with other extras.
Pinterest Plus – Premium WordPress Photo Sharing Theme ( Recommended! )
The background and Typography customizations are what set this theme aside from others, but
it does have all the benefits of all the other Pinterest-styled themes : jQuery dynamic grid layout
and great looks on any device. It's user friendly and supported for a lifetime.
Gridlocked: Minimalistic Theme
This minimalistic theme was developed by Themezilla with one general concept in mind – to
provide the Pinterest style experience without overloading the page with too much wasteful
information. This makes it load fast and display well. It's also highly customizable and easy to
use.
Price: $59 |  Download
Photolux – WordPress Photography theme
If one type of people would like Pinterest-type themes, it would be photographers! And this
theme was designed with their needs in mind – this theme would be perfect for showcasing your
work and presenting your images in a suitable way. You can select between Dark, Light and
Transparent color schemes, with the added extra widget of the Nivo slider.
Price: $45  |  Download
So simply make your choice on any of above and convert your blog into into money making and
traffic gainer machine. All of them are usable for photographers, designers, travelers, personal
bloggers, corporate and picture bloggers. You can easily share your pictures in the most modern
way and allow your visitors to like, share and comment on them!
Whatever sort of blogger you are, there's a high chance that Premium Pinterest WordPress
Themes will help you present yourself better. Designers, photographers, travelers and craftsmen
– the Pinterest style is guaranteed to generate more revenue.
For more information you cana check our earlier article on Pinterest WordPress Plugins, that it
explains in detail how you can attempt to integrate Pinterest features without changing your well
established theme.